JetBlue Student and Educational Travel Offer
Up to 20% off flights plus extra bags
JetBlue Student and Educational Travel Offer

We know your student years are all about discovering new horizons and new cultures, broadening your knowledge and meeting new people. That's why when you fly with JetBlue, you'll save up to 20% on Core (economy) tickets – whether you're travelling for university or planning a trip to reward yourself for all that hard study. Enjoy the flexibility to change your travel plans once without additional fees.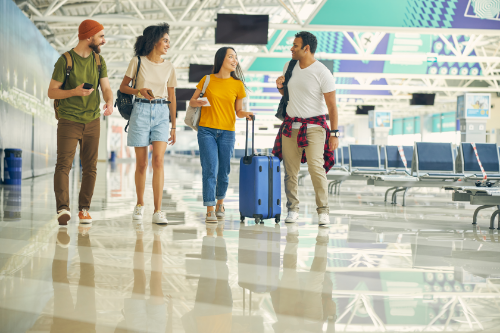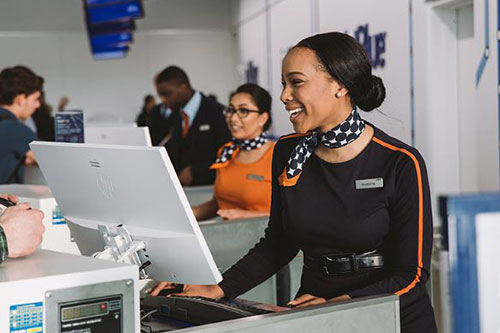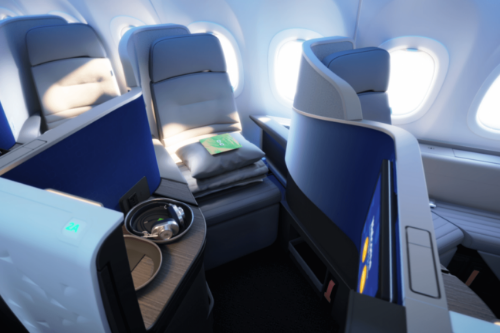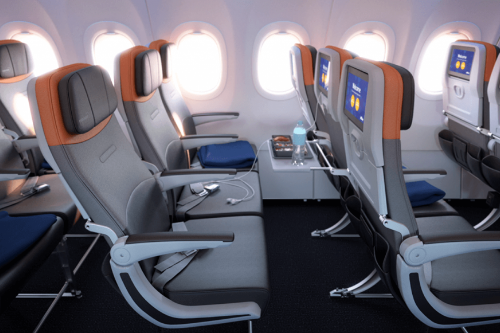 Exclusive offer for students and teachers
To be eligible, you must be currently enrolled at an eligible college or university, aged 16-30.
Save on selected fare types
Enjoy up to 20% savings with exclusive student fares when you book a Core (Economy Class). You can book for a maximum stay of 12 months.
Additional checked baggage allowance
Check-in 2pcs 23kg of baggage in Core* for flights from the United Kingdom to the USA. *NO baggage included in Blue Basic fare.
Complimentary booking change
Enjoy a fee waiver on your first booking change. Date or destination change allowed. Offer excludes Blue Basic.

Complimentary inflight WiFi
Here's how you can start enjoying your student / teacher travel:
Contact one of our four preferred travel agents
Verify your student / teacher status with them
Make your booking
On the day of your trip at the airport, you'll just be asked to present a valid student ID. Offer Valid until 31 December 2023. Conditions apply.
Flying with Us
Love at first flight.
Tons of legroom. Free snacks and wi-fi. Nonstop entertainment. Because why shouldn't the journey be as much fun as the destination?
Learn more at: jetblue.com/london
Simply book via our preferred travel agents
Customer must book flights via to official travel agencies first, in order to avail the exclusive offers for students.
Student is a person who is studying full-time at a recognised higher education provider (university or college) and is between the ages of 16 and 30 (the "Student"), with a valid and current student identification card issued by an official student union or an educational institute or a valid student visa or an official acceptance letter issued by an educational institute, in English.
Registration and Booking with Flight Centre Travel Group, Southall Travel, Trailfinders or Kilroy Travels travel agencies is mandatory to book the offer.
It is mandatory to provide supporting documents such as passport, university or college letter, or student identification card, or student visa, or official acceptance letter from college or university upon booking.
Student Travel Benefits can avail an extra baggage allowance in CORE*- Blue, Blue Extra (2) piece of baggage 23 kgs each (as applicable to the specific route) when travelling on JetBlue Airways operated flights.*NO baggage included in Blue Basic fare.

Before you pack, make sure your bags meet our checked bag size dimensions and weight requirements. Checked bags exceeding 62" (157.48 cm) in overall dimensions (length + width + height) or 50 pounds (22.68 kg) will also incur a fee.
Overweight or oversized bagsBags that don't meet the dimensions and/or weight restrictions are considered oversized and/or overweight and will be charged as follows:

• 51 lbs (23.13 kg) – 99 lbs (44.91 kg): $150 per bag / £120 to/from London

• 63" in (160 cm) – 80 in (203.3 cm, including wheels and handles): $150 per bag / £120 to/from London

To be entitled to the extra baggage allowance, the Student has to present a valid Student or Teacher card at the time of check in.
 JetBlue Airways and partner do not guarantee the availability, and / or continuity of any offer or other benefits. For avoidance of doubt, partners includes JetBlue Airways travel agency partners, which may be amended from time to time. Subject to below, the fare discount under this promotion will apply if the fare is purchased from travel agency partners but the actual discount is applicable on JetBlue Airways operated flights only.
Offer period: 1st August 2023 – 31st May 2024.
Travel period: starting from 1st August 2023 – 31st December 2024.
All fare discounts are only valid for bookings made with Flight Centre Travel Group, Southall Travel, Trailfinders or Kilroy Travels.
Discount applies to base fare only of the selected fare classes and does not apply to the taxes and all other surcharges, which are to be borne by the Student.
Blackout dates, Blackout dates are subject to change and certificate travel is always subject to availability. In addition to the dates listed below, availability can be limited on weekends.

August 31-September 4 ALL
October 5-9 ALL
November 2-6 New York City to Florida/Caribbean
November 17-27 ALL
December 21-January 3, 2024 ALL
2024 Blackout Dates
Date Cities
January 1-3 ALL
January 5-11 Las Vegas, NV (LAS)
January 12-15 ALL
February 8-12 Las Vegas, NV (LAS)
February 15-26 ALL
March 22-31 ALL
April 12-23 Boston, MA (BOS)
April 19-23 ALL
May 24-28 ALL
June 28-July 7 ALL
August 30-September 3 ALL
October 10-14 ALL
November 26-December 2 ALL
December 19-January 5, 2025 ALL
Registration and Booking with Flight Centre Travel Group, Southall Travel, Trailfinders or Kilroy Travels travel agencies is mandatory to book the offer.
Fares available for one way, return, open jaw journeys
Where we jet